2015 Best Diets, Lose Weight
2015 Best Diets, Lose Weight
Hello, welcome to Losing Weight With Pat. This is where you get information on  your best weight loss diet programs.
There are plenty of weight loss programs out there. There are so many it's really hard to keep track of all of them. On top of that, which ones really works. My goal is to find the ones that do work.
Always do your research and check with your physician before trying any unusual diets.
2015 and going into 2016 is the time for you to start losing weight. A lot of people will be making new year resolutions. The problem with that is you wait until January 1st to start. Why not start now? Slowly and that way the 1st day of 2016 you will be ready.
Some of the diets that I believe could do you good are as follow:
Dash Diet
Mayo Clinic Diet
Jenny Craig Diet
Weight Watchers
My Food Diary
I will go over these, but I do highly recommend Jenny Craig and Weight Watchers. Also, I do want to mention one more program, that is My Food Diary. I save the best for last. So now let's start with the first one that I mention.
Dash Diet
Dash Diet (Dietary approaches to stop Hypertension) has an ability to help diabetes, lower risk of strokes and can support healthy weight loss. This diet is for anyone who doesn't want to restrict any of the food groups.
This Diet is rich in fruits, legumes, vegetables, red meats, poultry, nuts and whole grains.
This Diet was originally an eating style to help lower blood pressure. Now they have found the Dash Diet is actually great for weight loss. These are plants that help you become healthier and can make you feel younger.
If you have excess weight in the middle, you will get a big benefit from the Dash Diet. You still get to eat your favorite foods.
So if you are trying to lose weight, the Dash Diet might be for you. This is the kind of diet that really not a program. Get the foods required for the Dash Diet and follow an eating plan and you will be on your way to being a thinner you.
Mayo Clinic Diet
Just about everyone has probably heard of the Mayo Clinic Diet. The great thing about his  diet is it can change the way you eat for the rest of your lifetime. This Diet becomes part of who you are.
The Purpose of the Mayo Clinic Diet is to help you with weight loss and the foods you will enjoy for the rest of your life. If you can start choosing healthy foods and changing your eating habits than you can maintain your weight for the rest of your life. That is what the Mayo Clinic Diet will teach you.
The 1st main phase of the Mayo Clinic Diet is that you can lose 6 to 10 lbs in a healthy way and do it fast. The next phase is to live. It will teach you how to make healthy choices, menu planning, and portions.
Build up your physical activity, eat healthily and live healthy lifestyles and you will feel great for the rest of your life.
Jenny Craig Diet
With the Jenny Craig Diet, you can lose up to if not more then 2 lbs a week. If you want to lose weight you need to cut down on the calories, fat, and control your portions. Jenny's prepackaged meals and recipes will teach you all three. Also, this diet will teach you how to eat healthier.
This works in that you will get a personalized meal and exercise plans. Also, you will get one-on-one counseling, only one session with one of their consultant. That's all you will probably need anyway. The consultant will, at least, get you on the right track.
For this diet, you really have to stay on the diet. You just need to stay motivated and know this is something you must do. So don't count this diet out, it may not work as fast as some of the other diets, this can work.
Weight Watchers
Weight Watchers as most of us know is a well known Diet program. This Diet has been around for many many years. Probably since I was a kid at least. This is probably one of the smartest and effective diet. One of the simplest plans to follow.
This diet includes short and long-term weight loss. You can lose up to if not more than 2 lbs weekly.
There is no committed time on how long if have to stay with this program but a lot of people, even after they lose weight, stays with Weight Watchers. Why not, it teaches you how to eat healthily. As long as you stay with the daily point plus plan, you can pretty much eat what you want.
You will load up on the fruits and veggies with this diet plan. Most studies have shown this to be the most effective diet when it comes to weight loss. So you need to check this diet plan out.
…….My Food Diary
I do want to throw one more weight loss program your way. This also does work. This program has been recognized my Shape, C/net, CNN Health, ABC News, and Fitness.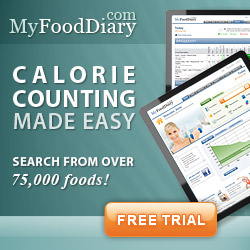 "My favorite diet tracker is myfooddiary.com"                                                                                                                           The Wall Street Journal
"The complete food database"                                                                                                                                                  The New York Times
The New York Times said it best, The complete food database. That's because, with my food diary, you get over 80,000 foods and tracks 15 nutrients.
Plus, by using this diet program, it can keep calculating calories for over 700 activities. You can be set up on a diet plan based on your age, gender, weight, body style and goals.
This is another Diet plan that can fit your lifestyle. Just the name is so catchy. We all should keep some sort of diary on how we eat.
Final Words
As I was writing this post, it dawned on me. I don't I make this a series. Which I think I will do. I'll start another page all about diet plans. I'll start off with these but get into more details on how these and other diets can really help.
If you have any question or suggestions for me, please leave them below. Also, I want to hear about your loss weight goals. I want to hear them and maybe help if you will allow me.
Once again thank you for visiting Losing Weight With Pat.
STAY AWESOME AND
GOOD LUCK TO ALL